Features
V3.1
Pop3Connector is designed to download mails from an unlimited number of POP3 mailboxes and relay them to any SMTP server, for instance Exchange Server, GMail, or any other mail server using the SMTP protocol.
Get it right now for only 29 EUR!
Initially designed as a replacement of the standard POP3 plugin that comes with Microsoft's Small Business Server (with all its limitations), Pop3Connector has some features that are hard to find anywhere else, and comes at an unbeatable price.
Download emails and attachments of any size
Parse 'To', 'Cc', and 'Bcc' fields of incoming messages and delivering to the correct mail address, thus enabling the use of a few mailboxes supporting an unlimited number of recipients
Download mails from any online POP3 account, like GMail, Freenet, Yahoo, Hotmail
Optionally leave messages on original server, for a configurable time or indefinitely (not in the free version)
Supports SSL/TSL connections and the newest security stacks for POP3 servers
Supports SSL and TLS connections and the newest security stacks for SMTP servers
Download emails as often as once per minute
Either install as windows service, or use as a stand-alone executable
Free lifetime upgrades! Pop3Connector is actively developed and extended as you read this
Minimal system requirements: Microsoft Windows 7/8/10, Server 2003/R2, Server 2008/R2, Server 2012/R2, Home Server 2007/2011, 32/64 bit versions, .NET Framework 4.7 or higher
Please note that for the highest security stacks to work with Pop3Connector, they have to be installed and enabled on older OSs!
Pop3Connector is free for up to two POP3 accounts!
Screenshots
Click on the images to scan through different views of the monitoring application.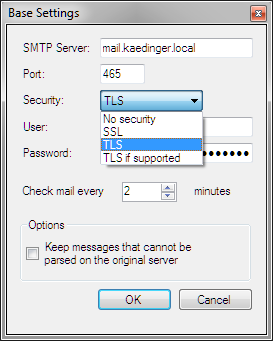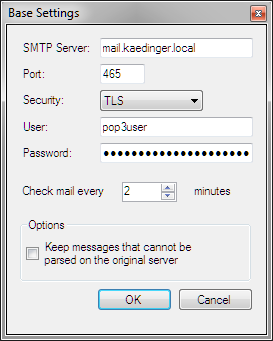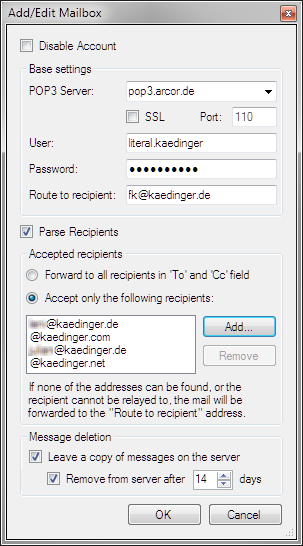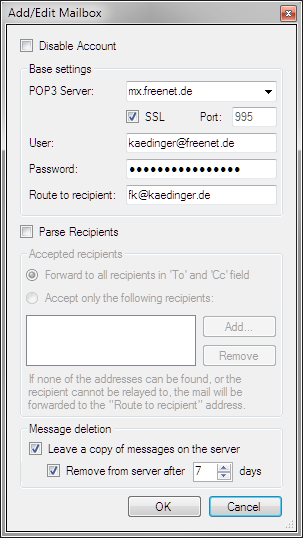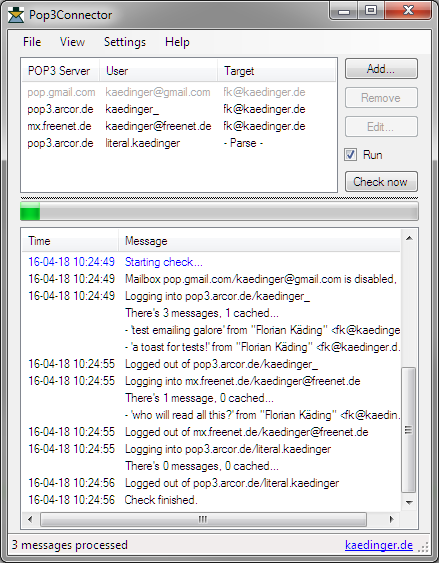 Purchase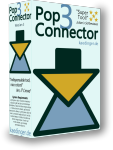 By purchasing a Pop3Connector license and registering it with the software, unlimited mailboxes and mail addresses become immediateley available.
The price for a full version license is currently starting at 29 EUR incl. VAT.
The full version license also includes lifetime free updates - Pop3Connector is actively developed at the moment. Features to come include advanced scheduling, usage of Exchange's pickup directory, and advanced archiving features.
Customers in Germany: Purchase full license at our shop (recommended).
Customers anywhere else: Purchase full license at MyCommerce/Digital River.
Note that for registering the license, an internet connection is necessary to our license server. Licenses can easily be moved to new machines by de-registering and re-registering within the Pop3Connector software.
Support
Please take a look first at the ReadMe file. If you need to contact our support, please do so via email.
If you do not have access to your mail account, you can use this form. Please provide your full name and email address.
FAQ
Can I port the license from one computer to another?
Yes. Using the license dialog in the Pop3Connector GUI you can deregister the license on the 'old' machine and then register it on your new server.
If the computer holding the license is not available anymore, please contact us including the receipt number and/or the email address the license is registered to.
I see there is a new version available. How do I upgrade?
If you installed the Pop3Connector using the msi installer, just install the new version with the msi installer, too.
If you used the manual install explained in the ReadMe.txt: remove the service as explained in the ReadMe, and the install the msi package or install manually again.
All your configuration settings and mailboxes are retained.
Contact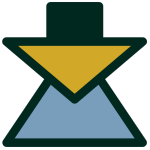 Pop3Connector
is a product by
GDPR
ProgramsHome.com
A directory of free and shareware software,instant messaging software,computer software,dvd software,cheap software,chat software,webcam software
Ultimate collection of games and multimedia software!
My Media Player provides detailed information for games and multimedia related software applications covering major operating systems. Users reviews and free, instant software download.
IT Shareware - A shareware and freeware collection with reviews and free downloads. Categories include games, Internet & network utilities, screensavers, audio & video, graphics, and business applications.
Shareware Plaza!
Software Downloads at URLFile
Pop3Connector for download
on File Fishstick
Catalog of software:
a lot of newest software for you to download.